BIO

Brian Lilly
is a Professional Drummer/
Musician
and Instructor
.
Playing since age 5,
he played his first gig at the early age of 10
and began teaching at the young age of 16.
A man of many hats, Brian is a highly sought after studio
and freelance Drummer/Musician as well as an Educator.
Lilly's schooling includes
8 years of concert band/choir and 6 years of marching/jazz bands.
Brian completed 2 years of music theory and has a solid background
with vocals, piano, guitar and Songwriting.
As a graduate of Central Kitsap High School (1986)
Brian was voted outstanding musician of the year.
Upon graduation was accepted at the highest level,
to the Musicians Institute of Technology in Hollywood, CA.
then later went on to further his education at Seattle Drum School.
Brian's experience includes extensive recording studio work and stage/concert
appearances with countless artist, covering many numerous styles and genre's.
Brian has performed at world famous venues such as
,
Hollywood's Troubadour, House of Blues, Whiskey-A-Go-Go and (Johnny Depp's) Viper Room.
He has appeared at New York City's Mercury Lounge, Texas's Granbury Opera House,
Galveston's Moody Gardens, South Dakota's #10 Saloon, (Wild Bill Hickok)
The
Mangy Moose
in Montana, Mexico's Hard Rock Cafe,
Seattle's Mural Amphitheater, Showbox, and Graceland,
Touring the Country Side from California's West Coast,
to
Nashville, Tennessee,
from the South of Texas to the Arctic Circle.

Lilly has Played with and/or Shared the Stage with:

1990 - Tommy Thayer (Black -n- Blue) (Kiss)

1992 - Ronnie Montrose (Montrose)
1997 - Rock n Roll Hall of Fame's Buddy Knox (Party Doll, Hula Love)
2004 - Diamond Rio
2008 - Earl Pool Ball (Johnny Cash)
2008 - Highway 101, Sammy Kershaw, Deana Carter and Collin Raye.
2010 - W.S.Holland (Johnny Cash) Earl Pool Ball (Johnny Cash) and Dave Roe (Johnny Cash)
2013 - Richie Blue ("Blues Hall of Fame" Guitarist/Singer/Songwriter.)


Some of Brian's Recordings and Accomplishments Include:
1988 - Teaser (Recorded at Seattle's Art Institute) (Recording not available)
1993 - 1998 - Jake n Driven Country - Driven Country - Sonia (On Fire)
Fronted by T.V.T/Universal Records recording artist, singer song writer and guitarist Brian Jennings (Closure)
(Clousure Video)
Butterface was also featured at
Seattle's 2000 (Pain in the Grass.)
Former Pain in the Grass alums include
Candlebox,
The Presidents of the United States of America, Modest Mouse and Pearl Jam.
2006 - The Tone Blasters - Brian Recorded/Performed Drum Tracks featured in (Billy Lane's Movie) (Blood, Sweat and Gears.)
2007 -
Recorded a Triple Johnny Cash Tribute Album at Ron Fairchild's (Oakridge Boys)
Studio in in Nashville, Tennessee
with the Dan Whyms (Dan in Black) and the Rock Island Line (Johnny Cash Tribute)
Endorsed by Marshal Grant, (Johnny Cash's Bassist) Earl Pool Ball, (Johnny Cash's Pianist)
2010 - Dan in Black and Rock Island Line had the honor to play with legends and Members of Johnny Cash's band.
W.S.Holland (Fluke) Johnny's one and only Drummer of 40 years, Earl Pool Ball once again and and Dave Roe,
Also as an Educator for Vic Firth, and Teacher
of over 30 years, some of Brian's past students accomplishments include:
(Winner of the 2001 1st round Guitar Center Drum off, Played for O.C. Jazz,
and was Showcased at Seattle's Experience Music Project.
"Hey man. Not to get to sappy. U taught me a life long skill and gave me tons of influence.
Thank you! Ur badass!" Harley Trotland.
(Text from Harley)
Yuri Ruley - (MXPX) (A&M Records)
(MXPX Web Site)
Still touring the entire globe for well over a decade now.
Yuri has performed on on the Conan O'Brien Show,
was featured on the re-release of the Animal House DVD,
did a Diet Pepsi commercial during the 2003 Super Bowl, was Recently a guest Drummer
for the Seahawks Blue Thunder, and the list go's on and on.
"Oh Great! I better do some more warm-ups! My Drum Teacher is here.
" Yuri Ruley. (Back stage at the Gorge in George) (Warp Tour)
In 2004 some of Brian's students got their names in the Guinness Book of World Records
playing drums at the Tacoma Dome. (Woodstick)
"I'm Jealous, I've played the King Dome before, but never the Tacoma Dome!" Brian Lilly.


2013 - 2014 -2015 Brian Mentored (Live it out Loud) Ted Brown Music Outreach Program. Similar to (School of Rock)
On a more personal note, Brian comes from a very Musical family and would like to
thank his Parents Buddy & Mary Lilly for giving him a Drum set for Christmas at age 5.
His Dad started playing at age 16 and is still a Professional Drummer/Singer today, and plays in a band called (UNDECIDED).
A highlight for Brian and his Dad was playing in a Band together,
(Driven Country) Featuring Brian's Dad Buddy Lilly on Lead Vocals.
Brian's younger brother (Brandon Lilly) is an Accomplished Saxophone Player and 2014 O.C. Jazz Graduate with Honors.
Brian, his Dad Buddy and Brother Brandon also play occasionally in a Band together with the Talented Warren Brothers.
Brian and Brandon's Mom and Dad attend all the Musical events that we play as well
as attending and supporting Brandon's daughters Musical events.
Supportive Parants/Grandparents, thats where its at.
Currently (2017) Brian is playing with:

(The Eclectics)

(

Cover Band) featuring Father & Son Ron Bates Sr. & Jr. singing a mix of old and new hits.
A Casino working Dance Band along with a 7 Piece Sinatra/Buble' Act.
(Dan in Black)
(Johnny Cash Tribute) Featuring Dan Whyms, Patti Connolly and the
Rock Island Line
.
(Endorsed and joined occasionally by Johnny Cash's Original Band Members)
(The Pendeltones) (Beach Boy Tribute) featuring the Warren Brothers.

(Basement Band) - (Original/Cover) - Country, Rock & Blues Band featuring Husband & Wife Matt & Amy Musselwhite.
We like to call it Farm-Funk!

(The Bootlegs) (70's/80's Rock & Roll Cover Band) featuring Joey James Dean. Sponsored by Coors Light.

(Doo-Wop & the Shoo-Be-Doos) 50's/60's Rock & Roll Cover Band featuring the Warren Brothers.

(BUTTERFACE) All Original Melodic Punk Rock Band Featuring Brian Jennings.
As well as always working on his own Personal Music Projects.
Brian is Now Presently Accepting Students and Teaching for:
There you have it. Brian Lilly, Drummer, Musician, Artist, Educator!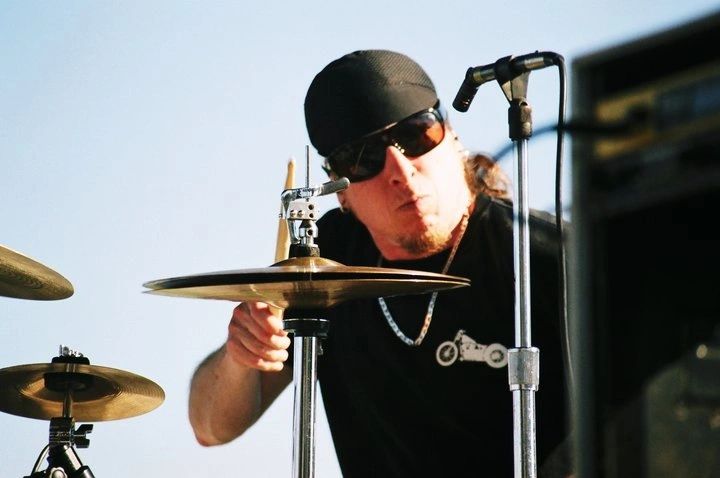 Lillys Drum Pad
:Professional Drum Lessons:

:Private Instruction:
:All Ages:
:All Levels:
:All Styles:
:Freelance Gigs:
:Session Work:
For Rates & Availability. Please Call/Text or Email!
Brian Lilly
360-731-4110
brianlilly11@msn.com